A Meditation as a Preparation for the Solemnity of the Immaculate Conception of the B.V.M.
December 8, 2015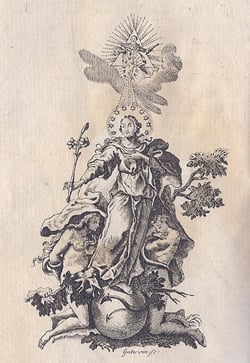 "Let it be done to my according to your word."
These words of our Lady express her total willingness to fulfill the Father's will, her complete openness to His divine plan, her absolute surrender to His Providence. How often in our lives, we want to have things "our way". We would rather say, "Let it be done to me according to my word." That is, we would rather have things according to our plans, our ideas, our desires, etc. But the fruit of the Immaculate Conception is precisely this: a total openness and docility to the Father and His plan of mercy. Sin is what encloses us within our own world, within ourselves: instead of living in reality as it is, we try to change reality and make it according to our own desires. Mary, free from all sin, was full of grace — which meant that she was completely open to reality as it truly is — a reality governed by the Father's Providence.
In other words, being without sin is synonymous with being willing to participate in God's plan of salvation — i.e., to fulfill God's will. This is not a static reality: hence, "full of grace" is not a precise translation of the Greek
kecharitomene
, which could rather be translated as, "having been transformed by grace." Daily, we are called to be "transformed by grace," by the action of the Holy Spirit, as was Mary. The gift of the Immaculate Conception is not for Mary alone; she receives it in its fullness so as to share it with the entire Church. The Immaculate Conception is not therefore merely negative (being free from all sin), it is positive: docility to the work of the Spirit who transforms us daily and fills us with the fullness of grace. That freedom from sin — living in our own small plans, according to our own wills — is complemented by the power and presence of the Spirit; we ought to ask Mary to participate in this mystery of the Immaculate Conception — to be free from all sin and to be filled with the Spirit.
In so doing, when we ask to participate in this great mystery, we are able, like Mary, to participate fully in the plan of God — in His plan of salvation. Mary indeed has an exalted role in that plan of salvation, but each of us has a specific vocation given by God to carry out that plan of salvation in our daily, concrete lives. That means we are all called to fulfill the will of God day in and day out — in all that we do. In fact, St. Faustina was reminded by our Lady that there is no holocaust more pleasing to God than the daily fulfillment — at all times and places — of God's holy will. Saint Faustina greatly honored the Immaculate Conception — preparing for it with thousands of Hail Marys. We see the fruit of this in her life: she crossed out her own will entirely and lived only by God's will, each day. Like Mary, she lived the words: "Let it be done to me according to your word." May we follow Mary's example — may we follow Faustina's example — and repeat these words always and everywhere. If we do so, we will grow in holiness in a short amount of time — and we will know that we concretely live out the Immaculate Conception in our daily lives.