The Message of Divine Mercy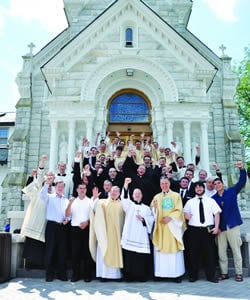 As Fr. Seraphim Michalenko, MIC, was fond of saying, "The Divine Mercy message and devotion is the largest grassroots movement in the history of the Catholic Church." And the Marian Fathers of the Immaculate Conception and our Marian Helpers have been at the heart of it since 1941, hardly three years after the death of St. Maria Faustina Kowalska, the Lord's "secretary" of Divine Mercy.
How do we spread Divine Mercy?
We are the publishers of St. Faustina's diary, Divine Mercy in My Soul, in many languages.
At our North American headquarters in Stockbridge, Mass., our printing presses produce religious artwork, pamphlets, magazines, prayercards, books, and appeals – some 50 million pieces of literature and images a year – which are sent out to a world yearning for meaning, mercy, and healing. Father Seraphim, resident of the Marians' residence on Eden Hill in Stockbridge, served as vice-postulator for the canonization cause of St. Faustina, whom St. John Paul II canonized in 2000 as the first saint for the new millennium.
We administer the National Shrine of The Divine Mercy in Stockbridge, Mass., which receives tens of thousands of visitors a year who seek spiritual renewal through the sacraments.
With thousands of cenacles started, hundreds of presentations given in parishes, many conferences held, and books published, our four apostolates – the John Paul II Institute of Divine Mercy, Eucharistic Apostles of the Divine Mercy, Mother of Mercy Messengers, and Healthcare Professionals for Divine Mercy – are helping thousands of Catholics embrace Divine Mercy as a way of life.
More than 475,000 people have downloaded our free Divine Mercy App
Our Friends of Mercy initiative has helped thousands of people to delve deeper in faith and allow God's mercy to transform their lives and the lives of those around them.
In 2001, the 60th anniversary of the Marians' involvement in the spread of the message and devotion to the Divine Mercy, St. John Paul II sent a special apostolic blessing and a renewed call to the Marians. "Be apostles of Divine Mercy under the maternal and loving guidance of Mary," he wrote.
Inspired by the Great Mercy Pope, we continue our task in the third millennium to make it known that, in the words of Jesus to St. Faustina, "Mankind will not have peace until it turns with trust to My Mercy" (Diary, 300).
What is Divine Mercy?
How did the Marians become official promoters of Divine Mercy?