Devotion to Mary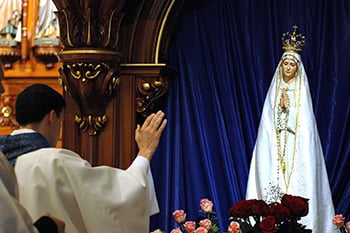 The Marian Fathers of the Immaculate Conception are a Congregation of nearly 500 priests and brothers in 20 countries around the world who seek to lead souls to Jesus through Mary.
Unfortunately, after the Second Vatican Council, devotion to Mary waned. Fortunately, through the efforts of people like St. Pope John Paul II, devotion to Our Blessed Mother is making a fast and fruitful comeback.
Of course, the Marians have been overjoyed to participate in this renewal in a number of ways. For instance, thanks to the preaching of charismatic Marians like
Fr. Donald Calloway, MIC
, and Fr. Anthony Gramlich, MIC, tens of thousands of people all over the world have rediscovered the powerful and loving intercession of Our Blessed Mother, Mary.
Also, through our publishing apostolate, millions of Marian books and pamphlets go out to the faithful every year, with Marian Helpers assisting in the distribution.
More recently, the Marians have helped spark one of the largest promotional efforts for Marian Consecration ever through
33 Days to Morning Glory
, by Fr. Michael Gaitley, MIC. Through this initiative, more than a million people have consecrated themselves to Jesus through Mary, the "crowning of Marian devotion."
That's not all.
The Marians continue to nurture a love for Jesus through Mary through our
Thirteenth of the Month Club
.
Furthermore, since the
Marians' free Mary App
first launched in May 2011, there have been well more than 200,000 downloads on Apple devices and 40,000 downloads on Android devices. The app offers a complete resource for information on the Blessed Virgin Mary, Mother of Jesus, in an easy-to-navigate format. By means of the app, people are turning to the Marian Fathers to learn about Mary in countries such as Singapore, Saudi Arabia, China, and many others where Marian devotion has hitherto made little or no inroads.
"If we want to conquer sin and evil," says Fr. Calloway, "we must make a decision to live under the mantle of God's masterpiece: Mary Immaculate."