Who is a Marian Helper?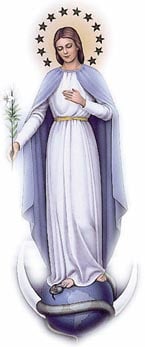 Marian Helpers are men, women, moms, dads, grandparents, families, and even children who support the mission of the Marian Fathers in various ways. They are people who, maybe just like you, are looking for ways to belong to something that is doing great good in the Church and the world.
Many people find that "something" is in the Association of Marian Helpers. Officially established in 1944, the Association began as a small group of friends who believed in and supported the work of the Marians. Now some 1.5-million members strong, the Association is a spiritual benefit society that continues to prayerfully and financially support the priests and brothers of the Congregation of Marian Fathers of the Immaculate Conception.
What are the Spiritual Benefits of Membership?
As a Marian Helper, you'll share in the benefits of all the daily Masses, prayers, and good works of Marian priests and brothers all over the world. In addition, you'll receive a specific remembrance in the following ways:
A daily Holy Mass celebrated for Marian Helpers
A Holy Mass offered for members on the First Friday and First Saturday of each month
A Holy Mass offered for deceased members on All Souls Day
A special Mass offered on each feast day of Our Savior and His Blessed Mother, including The Presentation (Feb. 2), The Annunciation (Mar. 25), The Assumption (Aug. 15), The Birth of Mary (Sept. 8), and The Immaculate Conception (Dec. 8)
The continuous Novena to The Divine Mercy at the National Shrine of The Divine Mercy in Stockbridge, Mass.
The daily prayers offered by workers at the National Shrine of The Divine Mercy and the Marian Helpers Center
Become a Marian Helper
There are many ways you or your loved one can become a Marian Helper. Click on the following links to find out which way fits you best.
How can I stay in touch with other Marian Helpers?
You can keep up with the latest updates on the Marians, Marian Helpers, Divine Mercy, Our Lady, and more by subscribing to Marian Helper magazine, visiting us on marian.org and thedivinemercy.org.

Find "Marian Helpers" on Facebook! Add your voice to the growing conversation.

If you have questions and you live in the United States or Canada, you can speak to one of our associates by calling us toll free at 1-800-4MARIAN (1-800-462-7426).