A priest ministers to a resident in the Marian Fathers' Mercy House in Gorodok, western Ukraine.
Thank you for your generosity.
We continue to need your prayers and support to help our Marians in Ukraine as they struggle to survive and rebuild, and to support the many refugees they assist with humanitarian and medical aid, both in Ukraine and in Poland.
PLEASE DONATE NOW!
100 percent of your donation goes directly to those in need through our Marian priests in Ukraine and Poland.
By Chris Sparks
The daily news headlines may be few and far between, but the war continues in Ukraine (as we go to press, in its seventh month), as does the need for humanitarian and medical aid. The Marian Fathers and Marian Helpers also continue in our service to those in need, suffering as a result of Russia's unjust, illegal invasion of an independent, sovereign nation, home to the largest Eastern Catholic Rite (the Ukrainian Greek Catholic Church [UGCC]) in the world.
Project C.U.R.E.
The indefatigable work of Nurse Marie Romagnano, MSN, RN, founder and head of the Marian Fathers' Healthcare Professionals for Divine Mercy apostolate, and Dr. Bryan Thatcher, founder and head of the Marian Fathers' Eucharistic Apostles of The Divine Mercy apostolate, has produced remarkable fruits. Their collaboration with Project C.U.R.E. has allowed a steady stream of medical and humanitarian aid to reach the Marian Fathers in Eastern Europe, which has then reached the Ukrainian people both in and outside the country.
"To date, we've shipped 81 pallets of goods to the Marians in Poland/Ukraine, with a Gift-In-Kind value of nearly $1.5 million ($1,499,537)," said Kristin Robinson, Kansas City executive director of Project C.U.R.E., in a July 12 email. "There are 11 additional pallets in the queue for shipment, and then two containers that are in the planning process set to sail in the coming weeks."
"Three-hundred emergency beds from Project C.U.R.E. were provided to the Marians' Mercy House in Ukraine," stated Dr. Thatcher, "allowing those patients — even the wheelchair bound — to get off the concrete floor and into a bed. We need everyone's help to continue this work. In addition to medical aid, we are facing a humanitarian crisis of insufficient food and water."
Nurse Marie noted that the Oliver-Hoffman Foundation and 15 pallets of desperately-needed medical supplies. "Both Bryan and I are deeply grateful to them and the Marian Helpers who are so generous," she said. "Each day that goes by, we are working on shipments and procuring medical and humanitarian supplies. We are determined to continue with this corporal work of mercy, no matter how difficult."
The Marian Helper response has been outstanding, said the Very Rev. Fr. Joseph "Joe" Roesch, MIC, vicar general for the Congregation of Marian Fathers. "I would like to thank all of the Marian Helpers who have done so much to help our Marian priests and their parishioners who have been living under the constant threat of death, especially in Kharkiv, where they have been under almost continuous attack," said Fr. Joe. "I encourage you to continue to pray for them and support them in any way you can since this terrible war marches on unabated."
Need remains
"I would like to thank you for your financial support and your prayers for the end of the war, peace, and reconciliation," added Fr. Wojciech "Wojtek" Jasinski, MIC, general treasurer of the Congregation. "The innocent Ukrainian people suffer death, injuries, homelessness, despair. Ukraine still needs our support.
"We Marian Fathers around the world are doing whatever is possible to sustain hope among our Marian brethren in Ukraine who have stayed there to help those in great need," Fr. Wojtek continued. "My brothers provide shelter, medicine, food. They provide hope and strongly believe that soon peace and victory come.
"We are able to continue our ministry in Ukraine because of you, our wonderful benefactors," Fr. Wojtek concluded. "May our Merciful Lord pour upon you His blessings of love and mercy. May Our Mother, Immaculately Conceived Blessed Virgin Mary, intercede for you always and protect you."
Please make a donation for Ukraine relief. One hundred percent of donations are used to help cover the cost of humanitarian and medical assistance for Ukraine and refugees in Poland.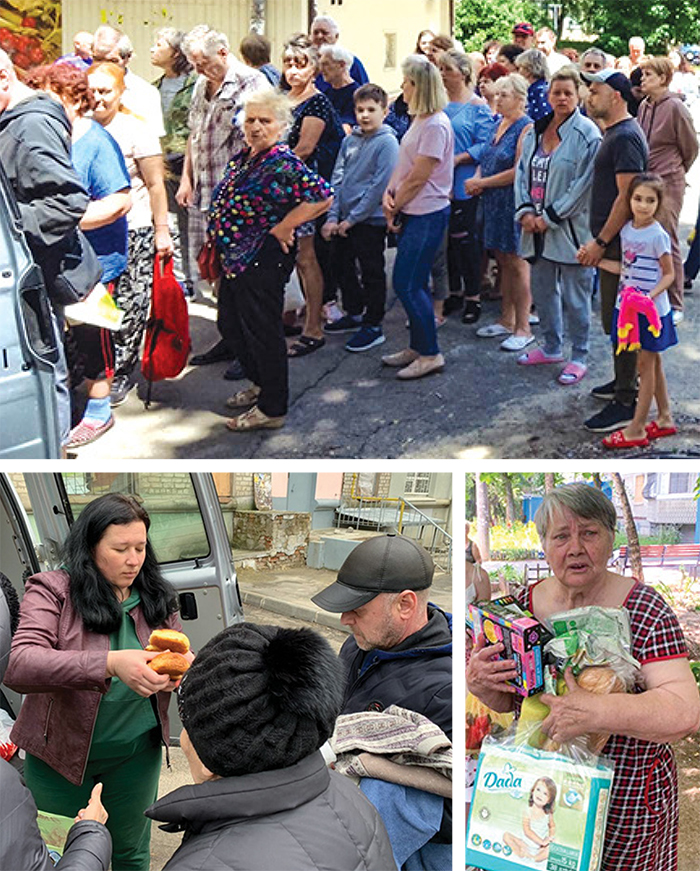 Extraordinary teaching
In the midst of the terrible Russian attacks against his own country, the chief Catholic prelate in Ukraine offered an extraordinary teaching on loving one's enemy. "Ukraine is standing, Ukraine is fighting, Ukraine is praying and learning to overcome," said Major Archbishop Sviatoslav Shevchuk, head of the UGCC, in a July 14 message from Kiev, the capital of Ukraine. "These days, there were many questions about how to overcome the hatred of the enemy who kills us, how not to be angry when you see all the crimes that are taking place on our land.
"Today I want to invite everyone to pray for us to be able to turn our anger into the virtue of courage through our meekness and long-suffering." Archbishop Shevchuk continued. "Let us pray today for our army, our defenders, the girls and boys who defend our Ukrainian land with their bodies. Let us protect our hearts from anger and hatred, let us be filled with the virtue of long-suffering, so we can resist evil for a long time, and the enemy does not first fill our hearts through the demon of anger."
All of the Major Archbishop's daily messages can be found at news.ugcc.ua/en/ugcc-head/ along with other news from our Catholic brethren of the UGCC.
Previous coverage of our outreach to Ukraine.
{shopmercy-ad}