Mary Immaculate, Mother of Mercy - III
A Meditation for the Solemnity of the Assumption of the Blessed Virgin Mary
August 15, 2002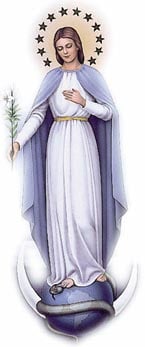 by Dr. Robert Stackpole, STD
The third reason we are right to call Mary our "Mother of Mercy" is that, during her sojourn on earth, she performed a tremendous work of Mercy for us all: she showed us the way to be true disciples of Jesus Christ. As St. Faustina wrote in Diary entry 620: "Mary is my Instructress, who is ever teaching me how to live for God. My spirit brightens up in Your gentleness and Your humility, O Mary."
On the one hand, Mary taught St. Faustina how to be a true disciple of Jesus Christ by her words: her exhortations to practice the virtues. For example, in Diary entry 1711 St. Faustina reports:
When I was left alone with the Blessed Virgin she instructed me in the interior life. She said "The soul's true greatness lies in loving God and in humbling oneself in His presence, completely forgetting oneself and believing oneself to be nothing; because the Lord is great, but He is well-pleased only with the humble; he always opposes the proud."

In Diary entry 1415, Mary gave to Faustina a message that focused on the importance of three virtues above all. Mary said to her:
I desire, my dearly beloved daughter, that you practice the three virtues that are dearest to Me - and most pleasing to God. The first is humility, humility, and once again humility; the second virtue, purity; the third virtue, love of God. As my daughter, you must especially radiate with these virtues.

Here Mary teaches us that humility is the only good soil from which any spiritual growth can arise. Unless the soil of humility is in us first, nothing good in us can grow and bear fruit. In other words, unless we can first humbly admit our need for our heavenly Father - our need for His forgiveness for our past, His strength within us for the present, and His guiding light for our future - unless we can admit our need for Him in these ways, our hearts cannot be open to receive all that the Lord wants to give to us. In other words: how can God fill us with His grace, if we are already full of ourselves? There is just no room in our hearts for his grace to be poured in!

St. Maria Faustina learned this lesson well. Just remember how many times in her Diary that she refers to herself simply as "misery," almost as if that were her proper name. Even in the very last entry of her Diary, St. Faustina wrote (entry 1803):
Although I am such misery, I do not fear You, because I know Your mercy well. Nothing will frighten me away from You, O God, because everything is so much less that what I know [Your mercy to be]...

On the other hand, while Mary was a good "Instructress" for St. Faustina in words, we must not think that this was the only way that she taught St. Faustina how to be a true disciple of Christ. Even more important for St. Faustina, and for us, is that Mary taught us true discipleship by her own example, shining out to us from the pages from the gospels.

In fact, there are few things more profitable and refreshing for the soul than to meditate on the evangelical virtues of the Blessed Virgin Mary. For example, the Congregation of Marians of the Immaculate Conception - the very same religious order called by the Lord to spread the Divine Mercy message and devotion throughout the world - the same Congregation has a long spiritual tradition of meditating on the virtues of Mary. In the 18th century they developed a set of prayers called "The Chaplet of the Ten Evangelical Virtues of the Blessed Virgin Mary," which is still recited by the Marians today, as well as by the members of the Confraternity of the Immaculate Conception. The symbol that the Marians used for Mary's ten gospel virtues was a ten-pointed star, with each ray representing a virtue. One of their earliest saintly founders, the Venerable Fr. Casimir Wyszynski, opened his own meditations on Mary's virtues with these words:
Mary is the noble Star rising from the house of Jacob, whose rays illuminate the whole world. ... Let us then watch the rise and movements of this brightest Star carefully; let us follow her; let us rise up from the sleep of death by sin. If we want to see this Morning Star rising, we must zealously imitate the ten Virtues of the Virgin Mary. For just as a star once led the three wisemen to Jesus as he lay in a stable in Bethlehem, so will this Morning Star, shining with the ten rays of these evangelical virtues, lead us to Jesus sitting at the right hand of the Father in the heavenly kingdom.

Let us look very briefly at each of the ten rays of this Star, and see how Mary's example of virtue lights the way for us.

The first is purity: in other words, the ordering of our passions and bodily appetites, so that they always move us toward the true following of Jesus Christ, in faith and love, and never away from Him. We see this clearly in Mary, who was so "full of grace," according to St. Luke, that she became for us the first great example both of Christian motherhood, and of Consecrated Virginity in the service of God.

Mary's second gospel virtue is prudence: prudence in the capacity to consider one's options reasonably, and to choose the right course of action in the light of Faith. Remember how Mary carefully considered the angel Gabriel's words to her at the Annunciation. First she was "troubled" at his words, Scripture says, "and considered in her mind what sort of greeting this might be" (Lk 1:29). Then she asked for more information (Lk 1:34): "How can this be, since I have no husband." Then, when the angel explained to her the Lord's wondrous plan, Mary submitted to it with all prudence, for the expressed will of the Almighty, All-Wise and All-Merciful God was reason enough for her! "Behold, the handmaid of the Lord," she said, "be it unto me according to Thy word."

Mary's third gospel virtue is humility: the knowledge and acceptance of one's dependence upon God for everything good, from the gift of life itself, to every natural and supernatural blessing. Mary is the shining example of gospel humility, for even when she was told that she was chosen to be the very Mother of the Messiah, the Mother of the King of Israel, the Son of God, yet she referred to herself as the mere "handmaid of the Lord" (Lk 1:38), and she gave all the credit to God for the privileges she received, in the words of her Magnificat (Lk 1:46-49):

My soul magnifies the Lord,
And my spirit rejoices in God my Savior,
For He has regarded the low estate of His handmaiden...
For He who is mighty has done great things for me...

Mary's fourth virtue is faith: this means the capacity to surrender oneself, in the heart and mind, to all that the Lord has revealed through Christ and His Church about His nature, His works, and His saving purposes for us. St. Elizabeth commended Mary for her faith with the words: "Blessed is she who believed that there would be a fulfillment of what was spoken to her from the Lord" (Lk 1:45). And Mary showed that she had surrendered herself completely to God, trusting Him to fulfill all His promises to Israel, when she declared at the end of her Magnificat (Lk 1:54-55):

He has helped His servant Israel
in remembrance of His mercy,
as He promised to our fathers,
to Abraham and his posterity forever.

Mary's fifth evangelical virtue is devotion. Of course, the English word "devotion" has several possible meanings, but here we use it to mean the virtue of using to the full all of the means of grace that our Lord has given to us to draw near to Him, especially prayer and the sacraments. Mary showed herself a truly devout woman of prayer when she offered, in praise and thanksgiving, her Magnificat, "My soul magnifies the Lord" (Lk 1:46), and again in the Cenacle after Christ's ascension, when she was found at prayer in the midst of the disciples, waiting and praying for the special outpouring of the Holy Spirit promised by the Lord (Acts 1:14).

We know that Mary was also given to prayerful meditation upon the mysteries of Christ, especially upon the wonders of His Nativity. Twice in the gospels we are told that "she kept all these things, pondering them in her heart" (Lk 2:19, 51). The coming of the shepherds, the wise men, the star, and the prophecies: she treasured and cherished these memories, pondering them frequently, and uncovering their true meaning. This is an authentic exercise of religious devotion.

Mary's sixth virtue is obedience: obedience means following loyally all the lawful directives of one's parents, employers, governors, and ecclesiastical superiors, in so far as those directives do not require us to break the commandments of God. Mary was a model of obedience when (even though she was with child) she obeyed the decree from Caesar Augustus, and journeyed with Joseph to Bethlehem for the common enrollment (Lk 2:1-5). Not only was Mary obedient to civil law, she was also obedient to ecclesiastical law, for when the time came for her purification according to the Law of Moses, she and Joseph brought the child Jesus to the Temple in Jerusalem to present him to the Lord, offering there the sacrifice required by the Jewish law: "a pair of turtledoves, or two young pigeons" (Lk 2:22-24). Above all, Mary was obedient to the will of her son, the Son of God. As she said to the servants at the wedding feast at Cana: just "do whatever he tells you" (Jn 2:5).

Mary's seventh evangelical virtue is poverty: by this we mean not just material poverty, but true simplicity of heart, in other words, detachment from all created things. The poor in spirit know that accumulating and enjoying worldly goods is not the purpose of our lives; rather, material goods ought to be a "means," not an "end": a means to be used for the service of God and the relief of human need. How poor in spirit Mary showed herself to be when she "gave birth to her first-born son and wrapped him in swaddling clothes, and laid him in a manger, because there was no place for them in the inn" (Mt 2:7). Mary did not complain bitterly about suffering this hardship; on the contrary, she must have rejoiced at the birth of Jesus, despite the poverty of her surroundings. Though she was a homeless young mother, she trusted in God to provide what was truly most needful, and she received with joy, even in the midst of material poverty, the divine gift of the Christ Child.

Mary's eighth gospel virtue is patience. This is the virtue that enabled her to endure all the wrongs and misfortunes of life without discouragement, but with trust in God instead. Think of the patience and trust in divine providence that Mary must have had when she was awakened by Joseph in the middle of the night, and told that their family had to make a quick, nocturnal escape from Herod's murderous soldiers - indeed, that they had to flee for safety all the way to a foreign land, to live as refugees in Egypt: a place where they had (as far as we know) no job, no friends or acquaintances, in fact, nothing at all! Only patience, founded upon complete trust in God's providence, could have borne Mary through this sudden flight, and prolonged exile.

Mary's ninth gospel virtue is mercy or charity. See how merciful she was to her cousin Elizabeth. No sooner had Mary heard from the angel Gabriel that her elderly kinswoman was with child, than she journeyed with haste through the hill-country to visit her, and stayed with her three whole months to help her (Lk 1:36-56). Moreover, Mary went to Elizabeth not just to help her with the daily chores, but also to share with her the secret of the Christ Child that was to be born. In fact, no sooner had Mary crossed the threshold of Elizabeth's house than a bond of the Holy Spirit was formed between them (Lk 1:41).

How charitable also was Our Lady at the wedding feast at Cana when she noticed that the young couple was running out of wine for their guests, and, eager to preserve them from shame and embarrassment on their wedding day, she brought their needs before her son with the simple words, "They have no more wine." By her intercession, therefore, Mary came to their aid (Jn 2:1-3). To come to the aid of those in need is the essence of "mercy" or "charity."

Mary's tenth evangelical virtue is sorrow. Of course, there is nothing especially virtuous just in "feeling sad." But whenever to take our pains, griefs, and sorrows, and offer them up, in union with Christ's passion, then our sufferings can merit graces for the good of souls, both on earth and in purgatory. In this way, we can share in the redemptive work of our Savior (see Col 1:24). As Pope John Paul II taught in his apostolic letter "Salvifici Dolores": our unavoidable sufferings and sorrows can find meaning in Christ, and can be put to good use. We are not only to do good to the suffering, he wrote, we are also to good by our sufferings.

This is precisely what Mary did. As old Simeon had foretold, sorrow like a sharp sword would one day pierce her heart (Lk 2:35). She had a foretaste of this when she lost her 12 year old son in Jerusalem at the time of the Passover, only to find him again in the Temple three days later (Lk 2:48). But Simeon's prophecy was fulfilled most of all at the time of the crucifixion of Jesus, as Mary remained faithfully with Him, standing at the foot of His cross, and bearing with Him the greatest sorrow that a mother's heart could ever endure: she witnessed the torturous death of an innocent man, her own beloved Son, the true Son of God.

The Venerable Casimir Wyszynski, MIC was surely right: Mary's virtues shine out from the gospels with matchless radiance. And this is a tremendous work of mercy that she has done for us all: modeling for us the path of virtue that, if we follow it faithfully, will make us true disciples of Jesus Christ.

St. Maria Faustina did not write out for us in any detail her own meditations on Mary's evangelical virtues. But we know that Mary's example was very important to her in her struggle to become a true disciple of Christ. She wrote in Diary entry 843: "The more I imitate the Mother of God, the more deeply I get to know God." Again, listen to what St. Faustina wrote in her beautiful prayer in Diary entry 1232:

O sweet Mother of God,
I model my life on You;
You are for me the bright dawn:
In you I lose myself enraptured.

O Mother, Immaculate Virgin,
In You the divine ray is reflected,
Midst storms, 'tis You who teach me to love the Lord,
O my shield and defense from the foe.

This series of meditations will conclude on the feast of the Immaculate Conception, December 8.