A Meditation for the Solemnity of the Assumption
August 15, 2007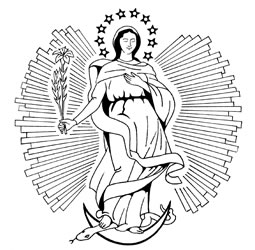 by Fr. Donald Calloway, MIC
If you have ever read the
Diary
of St. Faustina Kowalska you know that she was deeply in love with the Blessed Virgin Mary. There were so many ways that St. Faustina expressed her love for the Virgin Mary; through praying the rosary, celebrating Mary's privileges, titles and liturgical feasts, through Marian novenas and Marian consecrations, and by other various forms of Marian devotion.
One of the most interesting aspects of the
Diary
of St. Faustina is that she especially loved and wrote about the privileges of Mary's Immaculate Conception and her Assumption. Concerning the Assumption, St. Faustina made four specific entries on the actual day of the Solemnity of the Assumption in the years 1934-1937. These entries can help us to grow in our love and devotion to Mary as we prepare to celebrate the Solemnity of the Assumption.
August 15, 1934
On the day of the Assumption of the Mother of God, I did not assist at Holy Mass. The woman doctor did not allow me; but I prayed fervently in my cell. After a short time, I saw the Mother of God, unspeakably beautiful. She said to me,
My daughter, what I demand from you is prayer, prayer, and once again prayer, for the world and especially for your country. For nine days receive Holy Communion in atonement and unite yourself closely to the Holy Sacrifice of the Mass. During these nine days you will stand before God as an offering; always and everywhere, at all times and places, day or night, whenever you wake up, pray in the spirit. In spirit, once can always remain in prayer.
August 15, 1935
The day of the renewal of vows. At the beginning of Holy Mass, I saw Jesus in the usual way. He blessed us and then entered the tabernacle. Then I saw the Mother of God in a white garment and blue mantle, with Her head uncovered. She approached me from the altar, touched me with Her hands and covered me with Her mantle, saying,
Offer these vows for Poland. Pray for her.
This was on August fifteen.
August 15, 1936
During a Mass celebrated by Father Andrasz, a moment before the Elevation, God's presence pervaded my soul, which was drawn to the altar. Then I saw the Mother of God with the Infant Jesus. The Infant Jesus was holding onto the hand of Our Lady. A moment later, the Infant Jesus ran with joy to the center of the altar, and the Mother of God said to me,
See with what assurance I entrust Jesus into his hands. In the same way, you are to entrust your soul and be like a child to him.
After these words, my soul was filled with unusual trust. The Mother of God was clothed in a white dress, strangely white, transparent; on Her shoulders She had a transparent blue; that is, a blue-like mantle; with uncovered head [and] flowing hair, She was exquisite, and inconceivably beautiful. She was looking at Father with great tenderness, but after a moment, He broke up this beautiful Child, and living blood flowed forth. Father bent forward and received the true and living Jesus into himself. Had he eaten Him? I do not know how this took place. Jesus, Jesus, I cannot keep up with You, for in an instant, You become incomprehensible to me.
August 15, 1937
During meditation, God's presence pervaded me keenly, and I was aware of the Virgin Mary's joy at the moment of Her Assumption. Towards the end of the ceremony carried out in honor of the Mother of God, I saw the Virgin Mary, and She said to me,
Oh, how very pleased I am with the homage of your love!
And at that moment She covered all the sisters of our Congregation with Her mantle. With Her right hand, She clasped Mother General Michael to herself, and with Her left hand She did so to me, while all the sisters were at Her feet, covered with Her mantle. Then the Mother of God said,
Everyone who perseveres zealously till death in My Congregation will be spared the fire of purgatory, and I desire that each one distinguish herself by the following virtues: humility and meekness; chastity and love of God and neighbor; compassion and mercy.
After these words, the whole Congregation disappeared from my sight, and I remained alone with the Most Holy Mother who instructed me about the will of God and how to apply it to my life, submitting completely to His most holy decrees. It is impossible for one to please God without obeying His holy will.
My daughter, I strongly recommend that you faithfully fulfill all God's wishes, for that is most pleasing to His holy eyes. I very much desire that you distinguish yourself in this faithfulness in accomplishing God's will. Put the will of God before all sacrifices and holocausts.
While the heavenly Mother was talking to me, a deep understanding of this will of God was entering my soul.