A Meditation as a Preparation for the Solemnity of the Assumption of the Blessed Virgin Mary
August 15, 2016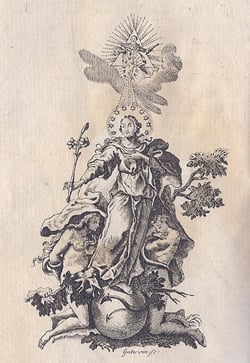 by Fr. Thaddaeus Lancton, MIC
On this day, in which we celebrate the Assumption of the Blessed Virgin Mary, it is important to recall some basic truths of our faith so to understand the beauty of this Solemnity.
We often speak of the "salvation of souls," but the salvation given us in Jesus Christ is to have its effect on our bodies and souls. The Blessed Virgin Mary already enjoys the fullness of God's glory, as she was assumed body and soul into Heaven. She received this gift from the Father because she was sinless and glorified God through her body and soul perfectly. Our flesh is destined to be with our souls for all eternity as well. We hold this to be true, and we call it "the resurrection of the flesh," a dogma of faith which we recite every Sunday at the Nicene Creed.
We can already partake of this heavenly glory of Mary by preparing ourselves to participate in this glory. This, then, begs the question: how does the glory of God shine through our bodies, and what does that mean?
St. Paul, in his letter to the Romans, exhorts the early Christians to offer their bodies as spiritual sacrifices to the living God (Rom 12:1-2). We are to offer spiritual sacrifices of praise to the Father, entrusting ourselves entirely into His hands.
What does this look like in our daily lives? Our bodies are to reveal the glory of God within our soul: we are called to love others through our bodies. In particular, in human sexuality, do you see sexuality as a gift, a means to give of yourself in love to another? Or do you use your body for your own purposes? Through proper use of sexuality, God is glorified.
Furthermore, when there are pains and trials in your body, do you unite this to the Body of Christ that endured torture for our sake? You can glorify God by uniting your pains and difficulties to those that Mary endured in her lifetime. Both Jesus and Mary reveal to us the path to the glorification of our bodies: the humble use of our bodies, according to the will of the Father, for the service of our fellow brothers and sisters. The greatest way to do this is through suffering: for it is through suffering that we prepare for the glorification of our bodies.
This is because the glory of God is love. If we use our bodies to receive and manifest the love of our Father - most particularly in times of suffering - then that glory will be revealed in its fullness in Heaven. But if, here upon earth, we use our bodies for self-love, for pleasure, for our own gain, then our bodies will not have much glory in Heaven. Let us follow the example of Mary, who put her body at the service of Jesus: carrying Him for nine months, feeding Him with her own milk, and watching over Him until His death. She had the privilege of using her body for Jesus, the Head of the Church. We have the privilege of using our bodies for Jesus in His members, since the Body of Christ is one: Head and Members.
Let us, then, prepare for the glory that awaits us. We are made in the image of God: let us love as God loves. We are temples of the Holy Spirit: may His glory - the love of our Father - shine through us in our deeds of mercy and love which we perform with our bodies. We are to be living sacrifices to the glory of God: let us offer everything we do and suffer in our bodies for His glory, and the salvation of souls. Then, we can be sure we, too, will have a glorified body as does Mary, our dear Mother.