The Immaculate Conception and Holy Mother Church
Meditation for the Solemnity of the Immaculate Conception
December 8, 2007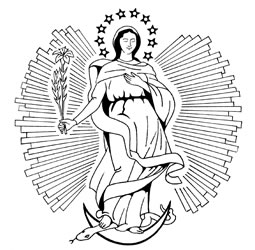 by Fr. Donald Calloway, MIC
Saints can tell us a lot about the privileges of Our Lady and how to prepare for their liturgical celebration. For example, St. Faustina referred to the Immaculate Conception of Our Lady twelve times in her
Diary
and prepared for the liturgical celebration of this Solemnity sometimes months in advance. The Immaculate Conception was for St. Faustina a model and mirror upon which she desired to pattern herself.
Saint Faustina recorded that in the years 1935, 1936 and 1937 she greatly prepared for and celebrated the Solemnity of the Immaculate Conception on December 8th. These passages offer great insights into St. Faustina's strong desire for purity, and they can help us, too, in our desire for purity.
(1935)
On the feast of the Immaculate Conception of the Mother of God, during Holy Mass, I heard the rustling of garments and saw the most holy Mother of God in a most beautiful white radiance. Her white garment was girdled with a blue sash. She said to me,
You give me great joy when you adore the Holy Trinity for the graces and privileges which were accorded Me.
And She immediately disappeared.
(1936)
From early morning, I felt the nearness of the Blessed Mother. During Holy Mass, I saw Her, so lovely and so beautiful that I have no words to express even a small part of this beauty. She was all [in] white, with a blue sash around Her waist. Her cloak was also blue, and there was a crown on Her head. Marvelous light streamed forth from Her whole figure.
I am Queen of heaven and earth, but especially the Mother of your [Congregation].
She pressed me to Her heart and said,
I feel constant compassion for you.
I felt the force of Her Immaculate Heart which was communicated to my soul. Now I understand why I have been preparing for this feast for two months and have been looking forward to it with such yearning. From today onwards, I am going to strive for the greatest purity of soul, that the rays of God's grace may be reflected in all their brilliance. I long to be a crystal in order to find favor in His eyes.
(1937)
It is with great zeal that I have prepared for the celebration of the Feast of the Immaculate Conception of the Mother of God. I have made an extra effort to keep recollected in spirit and have meditated on that unique privilege of Our Lady. And thus my heart was completely drowned in Her, thanking God for having accorded this great privilege to Mary. I prepared not only by means of the novena said in common by the whole community, but I also made a personal effort to salute Her a thousand times each day, saying a thousand "Hail Marys" for nine days in Her praise. This is now the third time I have said such a novena to the Mother of God: that is, a novena made up of a thousand Aves each day. Thus the novena consists in nine thousand salutations. Although I have done this now three times in my life, and two of these while in the course of my duties, I have never failed in carrying out my tasks with greatest exactitude. I have always said the novena outside the time of my exercises; that is to say, I have not said the Aves during Holy Mass or Benediction. Once, I made the novena while lying ill in the hospital. Where there's a will, there's a way. Apart from recreation, I have only prayed and worked. I have not said a single unnecessary word during these days. Although I must admit that such a matter requires a good deal of attention and effort, nothing is too much when it comes to honoring the Immaculate Virgin. Before Holy Communion I saw the Blessed Mother inconceivably beautiful. Smiling at me She said to me,
My daughter, at God's command I am to be, in a special and exclusive way your Mother; but I desire that you, too, in a special way, be My child. I desire, My dearly beloved daughter, that you practice the three virtues that are dearest to Me – and most pleasing to God. The first is humility, humility, humility, and once again humility; the second virtue, purity; the third virtue, love of God. As My daughter, you must especially radiate with these virtues.
When the conversation ended, She pressed me to Her heart and disappeared. When I regained the use of my sense, my heart became so wonder fully attracted to these virtues; and I practice them faithfully. They are as though engraved in my heart.