A Meditation as a Preparation for the Solemnity of the Immaculate Conception of the B.V.M.
December 8, 2012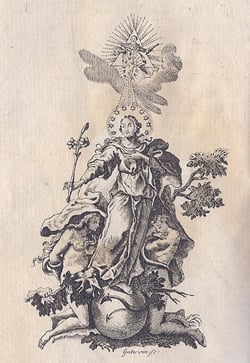 It's very important to reflect on what the doctrine of the Immaculate Conception is so as to understand it and realize its wonder and to grasp what it is not so as to grow in an informed faith.
Some people believe that the title describes the conception of Christ in the womb of Mary without the intervention of a human father – this is actually the mystery of the Virgin Birth when Mary gives birth to Jesus without her loss of Virginity. The reality of this mystery was considered for the Feast of the Birth of Mary which clearly shows that no human intervention brought about the conception of Jesus in the womb of Mary.
Others may hold the opinion that the Immaculate Conception explains that Mary was conceived "by the power of the Holy Spirit," in the way Jesus was, but this would be placing Mary within the mystery of the Triune God, certainly not what is revealed in the visit to Mary by the Archangel Gabriel. St. Maximillian Kolbe does reflect on the intimate relationship of Mary and the Holy Spirit but always with distinctions.
What we understand from the Catechism of the Catholic Church is that Mary was conceived in the womb of Saint Ann, the spouse of Joachim in the course of time by human marital relations. In their old age, by the providence of God, Mary was conceived in the womb of St. Ann but without the stain of Original Sin. Why and how? This was to make certain that Mary was not to be touched in body or soul by the stain of the Original Sin. This was possible, as the dogma states, because of the foreseen Passion, Death and Resurrection of Jesus – thus it was deemed right that the fruit of the Eternal Love of God, the Holy Spirit, would give flesh not in the normal course of human relations but by the Divine relationship of Love begetting Love by the Holy Spirit – the spiritual/mystical marriage of Mary with her spouse, the Holy Spirit.
The Immaculate Conception thus means that Mary, whose conception was brought about in the normal way, was conceived without original sin or its stain—that's what "immaculate" means: without stain. The identifying nature of original sin is the deprivation of sanctifying grace – this grace is the sharing in the life of God. So Mary was identified by the Archangel Gabriel as "full of Grace" sharing fully in the Life of God and saving her from the stain of a corrupt nature – her will was always to be one with God's will. Mary was preserved from the defects of disobedience by God's grace; from the first instant of her existence she was in the state of original holiness and was free from the corrupt nature original sin brought.
According to the
Catechism of The Catholic Church
(entries 491-492):

Through the centuries the Church has become ever more aware that Mary, "full of grace" through God, was redeemed from the first moment of her conception. That is what the dogma of the Immaculate Conception confesses, as Pope Pius IX proclaimed in 1854:

"The most Blessed Virgin Mary was, from the first moment of her conception, by a singular grace and privilege of almighty God and in virtue of the merits of Jesus Christ, Savior of the human race, preserved immune from all stain of original sin.

"The splendor of an entirely unique holiness" by which Mary is "enriched from the first instant of her conception" comes wholly from Christ: she is "redeemed, in a more excellent fashion, by reason of the merits of her Son."

"O Mary, conceived without Original Sin, pray for us who have recourse to thee."