The Ten Evangelical Virtues of Mary
Eighth Virtue: Patience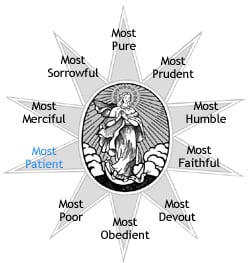 The Road to Salvation is Paved through Patience
by Felix Carroll
While I was growing up, we always had a calendar in our kitchen that was published each year by a local printer who did all the artwork himself. He illustrated themes for each month — such as happiness (a boy flinching, one eye open, catching probably his first line drive) and peacefulness (a wintry scene with a set of footprints broken up only by a snow angel).

The one scene I will never forget is the one on patience.

It was a cityscape filled with bustling traffic, pushy pedestrians, people waving and shouting from tenement windows, and fumes filling the sky. But in the corner, unmistakably, was a robin perched inside the eave of a building, peacefully making a little nest out of debris and scraps.

Amidst the din and confusion of the modern world, the robin was above it all, patient and secure.

When I think of the little robin — so small, so fragile, yet so filled with courage and determination — I can't help thinking about Mary, who is called most patient. Like the robin, Mary rises above the callousness and disorder of her times. Through patience — which is equal parts fortitude and faith — she points toward the path of salvation.

I think of her being turned away from the inn and giving birth in a stable. I think of her fashioning a crib from a trough and filling it with scraps of straw. She patiently endures the persecution of Herod and of the Jews. She searches with sorrow for the 12-year-old Jesus for three days. She endures the crucifixion of her Son.

In all of these situations, she proves what it means to be a child of God, putting all her trials into perspective with her vocation as mother of Jesus. Calmly she suffers, and patiently she resigns herself to God's will. Indeed, while living amidst hardship and turmoil, Mary teaches us how, through patience, we may gain a greater love for Christ and for our neighbors.

In the Rule of the Ten Evangelical Virtues, we are told specifically how we are to possess and cultivate such patience in our own lives — how we can endure evil for Christ in order to receive honor in Heaven.

The Rule states that, in imitation of Mary, "devoted souls, in order to please Christ, should desire to endure something for the name of their Spouse [Jesus Christ]. They should rejoice when they suffer persecution unjustly because the Lord said, 'By patient endurance you will save your lives' (Lk 21:19), and the Apostle [Paul] says: 'If only we suffer with Him we shall also reign with Him.'"

The Rule stresses that devoted souls should console themselves if God doesn't answer their pleas quickly or if He is not immediately found by them. Yet, they should persevere in patience, seeking Jesus for days, namely: by contrition, Confession, and reparation for sin.

Margaret Thatcher once said, "I am extraordinarily patient, provided I get my own way in the end." Many of us can surely relate to that. But the reality is, we won't always get our way. We'll continually face roadblocks and misfortune. We'll continually be disappointed by ourselves and by others.

That's why patience is indeed a virtue. In a world so frenzied and fast moving, in a world that so often demands instant gratification and immediate rewards, Mary shows us how, for the love of God, to bear our inevitable crosses.

As St. Teresa says, "If we bear slight things patiently, we shall acquire courage and strength to bear great things."
---
Purity • Prudence • Humility • Faith • Devotion • Obedience • Poverty • Patience • Mercy • Sorrow