Fr. Daniel Cambra, MIC
Director of the Marian Evangelization Team and the Holy Souls Sodality
Thompson, Connecticut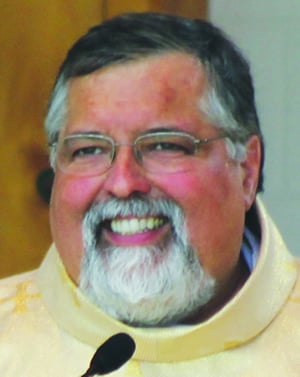 When I was in elementary school I recall vividly playing "Abbot" while most good Catholic boys were playing "Priest." I would corral a few friends, cousins, and neighbors for a little constructive imagination. The girls would be divided into cloistered nuns (if they sang well) and Franciscans.
The boys were all my fellow monks (Protestants were only allowed to be brothers) and priests (primarily fellow altar boys). I would carry out in the role of main celebrant and abbot of the monastery, which sometimes served as hunters' cabin, the cowboys' ranch house, or the criminals' hideout and/or jail.
When I was in high school I took four years of Latin because I knew I would need it when I studied for the priesthood at Louvain, where I hoped to obtain my Canon Law degree. I also dated, a lot. Like St. Augustine, I was open to a little barter with God from time to time. When I applied for college, I only applied to one college, St. John's Seminary in Boston. Yet, my bishop sent me to St. Thomas Seminary in Hartford, Conn. I went away a very happy seminarian, but after one bad experience after another, I left a sadder, but smarter and secularized person.
I was profoundly negative about diocesan clergy, beyond reason. And I was no longer a practicing Catholic. Yet no matter how welcomed I was in non-Catholic settings, I still felt drawn to the Eucharist. I may have passed for a good Baptist at times, and I could "Bible verse quote" with the best on any topic, but my theology always remained very Catholic. I was considering marriage, had a great job, two apartments (Cambridge, Mass., and Tallahassee, Fla.) and was moving into my newly constructed house where I hoped to raise a large family. Then things fell apart.
My father's health took a unsuspected negative turn. I went to be with my mother, to help her prepare for my father's death and burial. He did not die; instead, he went into a coma for six months, during which time my boss got tired of holding my job open and fired me. No job means "no money." I lost the house and both apartments. Friends housed my possessions for awhile and then used them as their own and finally took possession of my stuff and told me to go away. No job, no money, no house, no apartments. You guessed it: no fiancée to call my own. First, I was driving my mother to the hospital each day to see my dad. Then, she decides she wants to go to daily Mass., so I am driving her to daily Mass, too. "Why aren't you receiving Communion?" I am nagged each day. "Let's stay after Mass for the Rosary. They are saying a decade for your father." Then, it quickly became, "Would you like to lead the decade for your father?"
Well, to make a very long story shorter, there was a surgery. My father recovered, and he went back to work. And I went back to looking for my next job, which turned out to be in religious life. I had attempted to bargain with God, but He always wins!
I joined a community, but the experience did not go well for me, probably because I was still dragging a lot of baggage with me. The second attempt was highly successful. It was the Marian Fathers of the Immaculate Conception. I was now hoping to go to Rome to study to be a Russian missionary, but my superiors sent me to Sacred Heart School of Theology in Hales Corners, Wis., to be a parish priest.
For two years, I was an associate pastor of a parish and taught in the Permanent Deaconate Program. Then, I became the novice master and director of vocations while serving on the Provincial Council. Next, I became a pastor for 11 years at the same parish, during which time I also served as the Catholic elementary school principal for a year. There is a form of insanity I won't attempt again; two very full-time jobs at the same time, just to save the parish from having to pay a principal salary. But I did keep the school open and found a good replacement. Eight years at the next parish and then three years as pastor of two parishes simultaneously, with a school, and also choosing to build a new church at one while also serving the Marians as the provincial. Yes, there is no insanity in my family; I have it
all
! After I completed the construction of the new church, I left a new pastor at each of the separated parishes and moved on to solely concentrate on being the provincial. Nearly my childhood fantasy! Being the provincial is as close to being an abbot as a Marian can be.
However, the singularity of the provincial job didn't last long. Brother Chris, who was working at the Marian Helpers Center in Stockbridge, Mass., told me that they were getting too many requests for a priest to visit various parishes around the country. He kept asking me to take assignments to preach at parishes and at conferences. Then, he asked me to do a five-day, parish-based retreat, an old-fashioned mission. He even offered to come along with me to help sell books and do the driving. That's how the Marians' first Parish Evangelization Team was conceived.
It was also while I was provincial that I took it upon myself to become the director of the Marians'
Holy Souls Sodality
. I oversee our monthly newsletter, which encourages people to explore new paths of prayer for the Holy Souls.
Being the director for both the Parish Evangelization Team and Holy Souls Sodality is all that occupies my ministry these days. And while I am "on the road" a lot, I love coming home to the National Shrine of The Divine Mercy where I re-charge my spirit, receive my mail, and sometimes help others find their way in life.
By the way, for the curious among you, my parents celebrated their 60th wedding anniversary in 2013, and my dad turns 85 years old on Sept. 2, 2013. My mom still works part-time as the parish secretary.