Fr. Donald Van Alstyne, MIC
U.S. Army Chaplain, Retired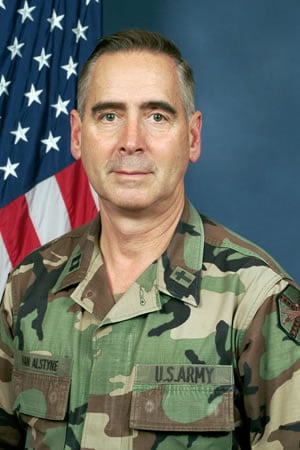 CH (MAJ) Van Alstyne was born in Catskill, N.Y. and graduated from American University in Washington, D.C., with a BA degree. He earned a Master of Divinity degree from the Washington Theological Union and went on to earn a Master of Social Work degree from Catholic University in Washington, D.C..
CH (MAJ) Van Alstyne's military education includes attendance to the Chaplains Officer Basic Candidate Course and the Career Course at Fort Jackson, S.C..
CH (MAJ) Van Alstyne was drafted in the fall of 1966 and served at Vint Hill Farm Station Warrington, Va. in the Army Security Agency and latter with the National Security Agency at Fort Meade, Md. where he served as an Aide De Camp for General William H. Price Jr. In 1972, he received an honorable discharge. Chaplain Van Alstyne came back on active duty service in August 1998 as a Catholic Chaplain where he was assigned to 725th Main Support Battalion. In January 2000, CH (MAJ) Van Alstyne was called to Bosnia for Operation Joint Forge (OJF) to help minister to soldiers involved in Peace Keeping Operations in the heavily disputed territories of the Balkans. Upon returning back to the 25ID, Schofield, Barracks he was assigned to the 65th Engineer Battalion(L), latter he was assigned to the 44th Engineer Battalion South Korea at the DMZ. In April 2002 Chaplain Van Alstyne was reassigned to the 122nd Signal Battalion, Camp Red Cloud where he had finished his second year in Korea. Chaplain Van Alstyne then served with the 110th Military Intelligence Battalion, 10th Mountain Division, Fort Drum, N.Y., where he had completed a nine-month deployment in Operation Enduring Freedom, Afghanistan. He is currently the Catholic Military Community Pastor at Joint Base Ft. Eustis, Va.
His awards and decorations include the Bronze Star, Meritorious Service Medal, the Army Commendation Medal, and the Army Achievement Medal with an Oak Leaf Cluster, the Good Conduct Medal, the National Defense Service Medal, Armed Forces Expeditionary Medal and the Army Service Medal.