Fr. Ireneusz Chodakowski, MIC
Kenosha, Wisconsin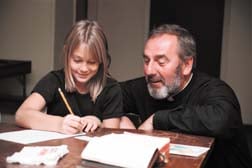 As a young man growing up in Poland, I never imagined I'd be pastor of a parish in the United States! When I entered a Polish seminary, I felt drawn to religious life with the Marians of the Immaculate Conception. But the writings of Marian Renovator Blessed George Matulaitis-Matulewicz made me think that maybe the Lord was calling me to serve those most in need as a brother, not a priest.
Then, as my formation continued, I came to understand the Lord wanted me to be a priest. Through my 20 years as a Marian, I've served in Poland, England, and now in the United States. My goal is to be available to everyone — for those in need, whether they are rich or poor. I've learned to rely on the grace of God for everything.
My greatest joy as a priest is celebrating Mass, hearing confessions, and doing pastoral work. At St. Louis Parish in Portland, Maine, where I'm now serving, we really try to focus on solid Catholic teaching with an emphasis on the Eucharist, the Sacraments, and devotion to Our Lady. The people have a great desire for that. And it's a joy for me to serve them — especially the children.