Fr. James McCormack, MIC
Novice master, prefect of formation, and local superior
Washington, D.C.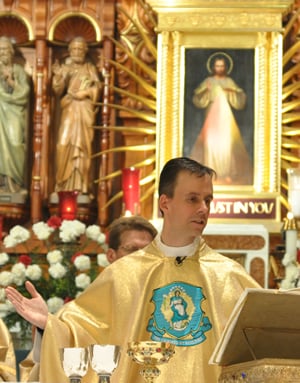 Father Jim McCormack, MIC, was ordained to the priesthood on July 10, 2010, at his home parish, St. Patrick's, in Burlington, Connecticut. He offered his first Holy Mass the next day at the National Shrine of The Divine Mercy on Eden Hill in Stockbridge, Massachusetts.
Father Jim received his Bachelor's degree in electrical engineering from Yale University and his Master's at Stanford University. Following graduate school, he worked in Colorado for seven years designing microprocessors for Hewlett-Packard.
It was during graduate school when Fr. Jim had his first sense of a calling to the priesthood, "but I did my best to ignore it," he says with a smile. After he broke up with his fiancée, he decided to take God's call more seriously.
Father Jim was given the grace to follow the Lord's call during a pilgrimage to Italy in 2002. "Due to Mary's help, I came away from that pilgrimage with a deep sense of peace about becoming a priest," he says. He joined the Marians in 2005 because of their devotion to Our Blessed Mother, Mary Immaculate, their active apostolic spirit, and their desire to spread devotion to Jesus, the Divine Mercy.
When he was a seminarian, Fr. Jim reflected on his future priesthood: "I look forward to being a spiritual 'Father' for souls. My awareness of my own need for God's mercy has led me especially to appreciate the Sacrament of Reconciliation. I want to be a merciful father, similar to the one in the parable of the Prodigal Son, who welcomes back with love and even runs to meet his wayward son."
Father Jim professed his perpetual vows in the Congregation of Marian Fathers of the Immaculate Conception of the B.V.M. on Aug. 16, 2009. Following his priestly ordination on July 10, 2010, he was sent to Rome where in 2013 he earned his Licentiate degree in the Theology of the Consecrated Life.
He now serves as novice master, prefect of formation and local superior at the Marian Scholasticate in Washington, D.C. He regularly teaches classes on spirituality to the Marian novices.