Fr. Robert Vennetti, MIC
Stockbridge, Massachusetts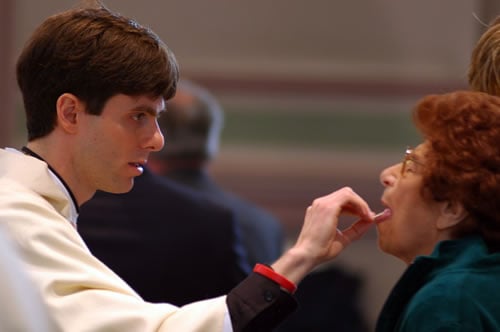 In the very town in which he was raised, in the very church in which he was baptized 39 years prior, on the very feast day so central to his religious calling, Deacon Robert Christian Vennetti, MIC, stepped before the altar on Saturday, May 13, 2006, to be ordained a priest.
"I thank Mother Mary for leading me to the Lord," said Fr. Robert, following his Ordination at St. Mary's Church in Warren, OH, on the Feast of Our Lady of Fatima. Family members, friends, and fellow Marians packed the church for the culmination of a religious journey that began for Fr. Robert 10 years earlier.
He was working as an engineer. He was unhappy with his life. He felt lost and confused. Then, a co-worker handed him a book on Our Lady of Fatima, who appeared before three peasant children in Portugal 89 years ago. So moved was he by Our Lady's urgent call for prayer, reparation, repentance, and sacrifice, that Fr. Robert began to pray the Rosary daily as Our Lady had instructed.
"The Rosary helped me through some very difficult times in my life, and it helped me to put my trust in the Lord and Our Lady and to be open to God's call," said Fr. Robert.
That call led him to the Marians of the Immaculate Conception. After nearly a decade of spiritual formation, Deacon Robert processed down the aisle at St. Mary's at the start of his Ordination to a hymn most fitting: "Ave, Maria," an homage to Our Lady whose trust in God led to "the gift of the Son," the Lord Jesus.
The Very Rev. Fr. Walter M. Dziordz, MIC, then-Superior of the Province headquartered in Stockbridge, MA, led the large gathering of Marian priests and brothers who traveled from around the Province to attend Fr. Robert's Ordination. The Most Rev. Bishop Elliott Thomas, coworker of the Marians and retired Bishop of St. Thomas, U.S. Virgin Islands, was the principal celebrant and homilist.
Following Holy Communion, Fr. Robert spoke his first words as a Marian priest. One of 11 children, he thanked his parents, Edward and Kathleen Vennetti.
"They sacrificed so much so that all 11 of their children would receive a Catholic education, all 12 years," he said. Father Robert then bestowed his first priestly blessing upon his parents.
"I'm on Cloud 9," said his father, a retired autoworker, following the Ordination. Referring to the sacrifices he and his wife made on behalf of their children, Edward said, "If we had to do it all over again, we'd do the same thing, believe me. It was the best thing we ever did."
His wife, Kathleen, recalled the day when her son announced he had a spiritual calling.
"He told us he wasn't happy what he was doing and that he wanted to help other people," she said. "He was an engineer, and it was just a job to him. Now he's very happy. He's where he belongs."
Billy Vennetti, one of eight of Fr. Robert's brothers, said, "We're just so proud of him. I don't think my parents have ever been prouder than today."
"He always guided us," said Brian, another brother. "With as many of us as there were, he helped take care of us. He was a role model for us."
"I remember when Fr. Robert was this tall," said Cy Manofsky, holding his hand up to his waist. While Cy and his brother Raymond waited in line to be blessed by Fr. Robert, they recalled meeting the young Robert in his grandparents' grocery store in Warren, a small city in northeast Ohio.
"He's always been a real humble guy, and thoughtful," said Cy.
Father David Lord, MIC, who served as the Marians' Vocation Director in Steubenville, Ohio, when Fr. Robert first inquired about the Marian Congregation, has fond memories of Fr. Robert.
"Above all else," Fr. David said of Fr. Robert, he is "a man of prayer. He would be in the chapel early and remain for long spells before retiring in the evening. He also has a great love for Our Lady and the Eucharist.
Father Robert celebrated his First Mass the following day at St. Mary's. Father Matthew Lamoureux, MIC, with whom Fr. Robert went to seminary, delivered the homily. He talked about the main role of the priesthood: "To give everything to God and the people."
"A priest is called to preach the truth of Jesus Christ," said Fr. Matthew, "especially today in which many people are dissuaded from the teachings of the Catholic Church by novels, movies, or TV shows. The priest and all people are called to have a strong prayer life and be connected to Jesus because He's the Vine and we're the branches.
"One of the best ways to hang onto the Vine, which is Jesus, is to hang on to this," Fr. Matthew said, holding up a rosary — the lifeline that rescued Fr. Robert a decade ago.