The Ten Evangelical Virtues of Mary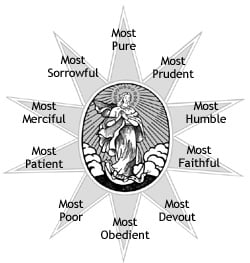 One of the greatest of the early Marians, Fr. Casimir Wyszynski, said, "Whoever wants to glorify the Blessed Virgin Mary and wishes to stay under her protection, should love and respect her — but above all, should exercise the evangelical virtues and, through this, shall follow Mary's example."

This series of articles, The Ten Evangelical Virtues of Mary, was originally published by the Association of Marian Helpers, in Stockbridge, Mass., USA. Each article spotlights one of the virtues, correlates the virtue to an event in Mary's life, and provides an approach on how we might incorporate this virtue into our lives.

These virtues, based in the Gospels, have been part of the Marians' Rule of Life since the founding of the Congregation in 1670.

The symbol used by the Marians for these ten virtues is this ten-ray star, with each ray representing one of the virtues. The original is located on the ceiling of an 18th century Marian Church in Gozlin, Poland.

One way to integrate these Ten Virtues into your life is by praying the Chaplet of the Ten Evangelical Virtues of the Blessed Virgin Mary.
---
Purity • Prudence • Humility • Faith • Devotion • Obedience • Poverty • Patience • Mercy • Sorrow