Fr. Matt Holladay, MIC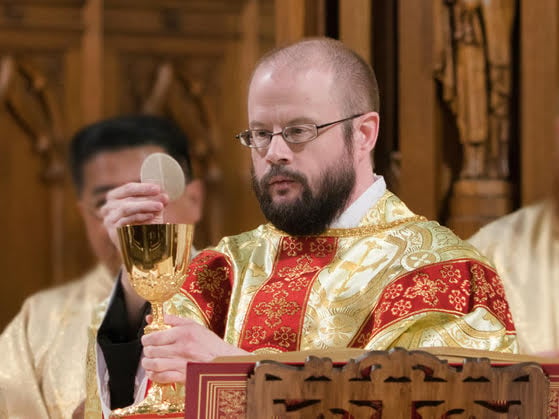 I am Father Matthew Holladay with the Marian Fathers of the Immaculate Conception. I was born in 1977 in Louisville, Kentucky. I have been with the Marian Fathers since July of 2008.
I first "felt the call" to the priesthood and religious life while in high school. It was with a strong inner conviction and attraction to the priesthood and religious life. Deep in my soul the words echoed while in prayer, "Be a priest my son," and that is what I sensed Almighty God wanted of me. After graduating from high school in 1996, I discerned priesthood and religious life for many years before entering the Marians which included writing to and visiting different religious orders and communities. I was blessed to have a part-time job as a security guard at my home parish which had a perpetual Eucharistic adoration chapel and I also worked at a grocery store to support myself.
I first heard about the Marians Fathers of the Immaculate Conception from EWTN and then later was reminded about them from the Marian Helpers Magazine. I discerned God's Will for me was to enter the Marians after great graces from Our Blessed Lord while on one of the vocation retreats at the Marian Father's Steubenville house in September 2007.
After professing first vows I went to Franciscan University of Steubenville for my philosophy studies and obtained a bachelors degree in philosophy graduating in 2012. I professed perpetual vows that same year and entered major seminary at the Pontifical Faculty of the Immaculate Conception at the Dominican House of Studies in Washington, DC. I graduated with a Masters of Divinity, and was then ordained a transitional deacon in 2018, with my assignment as a deacon at the National Shrine of The Divine Mercy. On May 11, 2019 I was ordained to the holy priesthood with my current assignment at the National Shrine of the Divine Mercy. Unworthy sinner that I am, it has been a blessing to be a priest. It has been possible only with the help of our Lord's merciful grace and the intercession of the Blessed Virgin Mary, the Holy Mother of God, and our dear sweet Mother. It also would not be possible without the prayers and support of family, friends, benefactors and the Association of Marian Helpers.