Saint Joan de Valois
A Model of Submission to God's Plan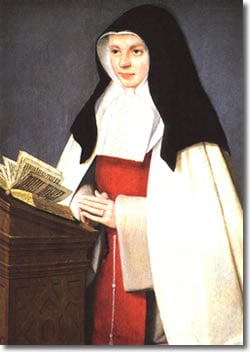 The 16th-century portrait of St. Joan of France allegedly painted by J. Perréal.
I – Introduction
All through her life, Joanna wanted to please Christ, to give Him joy. With all her being she drew from the love of God and Mary, constantly contemplating the mysteries of the Blessed Virgin Mary.

In Mary's example, she lived out the "Annunciation" and strove to fulfill God's will in all life events.

II – Let's look at her life ...
St. Joan was born in Nogent-le-Roi, on April 23, 1464, the fourth child of King Louis XI and Charlotte de Savoy.

Even as a child she had a great love for the Virgin Mary, the Mother of Jesus. She spent long hours in a small side chapel of the church, which its owner – Lignères – had to prepare for her. The little girl longed for one thing only: "To please the Queen of Heaven." She was merely seven, when she asked Mary in prayer in what manner she could please her best, and in her heart she received the answer:

"Before you die, you shall found the Order in my honor: this is the greatest pleasure that you can give to my Son and myself."

How would it come to pass? This wasn't important... After the example of Mary, Joan of France kept this "Annunciation" in her heart, devoting herself entirely to God. This promise had become a guiding star of her life, a hymn of hope kept her company and sustained on the suffering-filled journey to the remote day of founding the Order of the Annunciades.

Upon her father's will, at age 12 she was married to the Duke of Orleans, 14 years of age then, who had never accepted that union and dismissed his wife as soon as he ascended to the throne. During the marriage that lasted 22 years Joan has experienced loneliness and humiliation.

After the marriage with Louis was annulled, Joan revealed to her confessor, Fr. Gabriel-Maria "a longing that God gave her a long time ago... that concerned the founding of the Order of the Glorious Virgin Mary." Having received this in silence, Fr. Gariel-Maria did not touch on this issue for two years.

The Chronicles of the Annunciades state: "Compelled by God and His Blessed Mother," Joan insisted during illness: "Father, it is because of you that I'm sick and may soon die if you won't help me fulfill my desire to found the Order of the Virgin Mary."

This time Fr. Gabriel Maria didn't argue. Dazzled by the Joan's heroic patience, her perseverance and love she had for the Virgin Mary, he had promised all possible assistance. When he asked if the Virgin Mary had perhaps revealed the Rule of the Order, Joan humbly let him know an inner inspiration, a clear indication received from Mary:

"Have them write down in the Rule everything that you can find about me in the Gospel."

The idea and desire were fulfilled in 1502, two years before her death, when Joan was 38. She founded with the help of Fr. Gabriel Maria a contemplative community of nuns.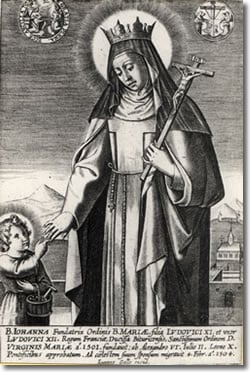 Spiritual nuptials of St. Joan with Jesus, symbolically presented in an old drawing.
III – What does her life teach us?
A - God is the Lord of our lives and nothing is impossible for Him.

In her childhood St. Joan heard the voice of Mary in her heart; she told her that she would found an Order before dying.

Initially however, the vicissitudes of Joan's life seemed to lead her in a completely different direction. Yet, God directs history: He straightens the paths and flattens the hills. What could've been an ordeal for many had become for Joan the way to fulfill God's promises.

B - God is All-powerful, yet He needs our trust and acceptance of His will; that is to say: God expects us to say, "Yes."

Even in the most difficult situations Joan always placed her hope in God, trusted Him completely. Like Mary, she kept in her heart and pondered what these experiences were to mean.

Joan's lifelong manner was devoid of bitterness and complaining.

Unloved and despised by her husband, she bore all torments with heroic patience and humility. Being physically impaired from childhood, Joan suffered rejection, humiliation, and unjust opinions, physical, moral, and spiritual sufferings.

However, the adversities could not destroy her.

Her faith and trust in God – together with her special devotion to Our Lady – protected her from doubts.

Her decisions – based on earnest discernment and spiritual direction – had their source in the Gospel.

As it turned out, due to St. Joan's fidelity and perseverance, God was able to carry out great things, even when everything seemed to oppose His will.

Joan lived out the "Cross of Christ" in the example of Mary, and allowed God to lead her on a new road.

Our lives are also a journey into the unknown, on which we repeatedly experience adversities and uncertainties. Sometimes it may look to us as if God doesn't think of or remember us. One of our main preoccupations is to safeguard our life. We fear the unforeseen, the uncertain, and the lack of control over events.

Saint Joan teaches us openness to God's plan (that is, to His Providence), and docility to the actions of the Holy Spirit.

After the annulment of her marriage, Joan was greatly pained, even felt despondent, which badly affected her already fragile health. For many months she wouldn't leave her apartments in the Amboise Castle. From the human viewpoint, everything seemed hopeless!

The Chronicles of the Order report:
"She suffered a great pain within her heart without letting it show. The enormity of her suffering was even greater in her soul, because she could properly assess the whole situation..."

However, her consolation was in the hope placed in God that everything would eventually turn out to great good and benefit, of which she spoke to her confessor, Fr. Gabriel Maria: "At that hour, when the news of the court ruling was delivered to me, I received the grace to understand that God allowed it all so that I could do much good – which I always so fervently desired... "

Joan did not close in on herself, did not become centered on herself or her misery, her sufferings. Instead, she turned to Christ and sought in Him the solace and meaning of these events; she drew her strength from Him and confidently united with Him in the Eucharist, in the contemplation of the Word of God and the Lord's Passion.

Saint Joan's misfortune turned to be the source of blessing and her spiritual growth. She teaches us that our every imperfection, failure, humiliation and rejection, as well as the ensuing loneliness, suffering, and setback, are the opportunities of meeting God, uniting with Him, and growing in His Love. A successful family and married life is a gift of God, and we must do everything to make it happen. But also the suffered rejection and humiliation, though bad in themselves, never condemn a person to a less happy life. The example of St. Joan proves that such a life can become commendable, fertile, and happy; but it is above all the road on which God somehow compensates our problems with spiritual gifts, for which we just need to reach with faith and love.

C - God expects our cooperation.

Having accepted her cross – the annulment of her marriage (because God so willed), Joan received the title of a Duchess. She had a deep sense of responsibility for the management of the state, even if it was just a small principality of Berry, and the notion of resigning from the mission entrusted to her not only by the king of France but by God, the Lord of all power, never crossed her mind.

In working together with the grace, she used all their talents to meet their obligations.

Joan was guided by charity and helped people in their every need ...
She forgave her former husband...
Lord God did great good through her, while thanks to her patience and obedience to God's will, the Order of the Blessed Virgin Mary – the Annunciade Sisters – was founded and still exists today! Praise the Lord!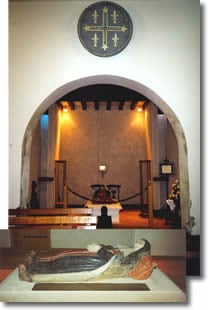 Chapel in the former convent of the Annunciades in Bourges that holds the empty sarcophagus of St. Joan of France.
IV – Conclusion
The life St. Joan is primarily a testimony of faith that can strengthen and encourage us to persevere with God and the Mother of Jesus, despite all adversities and resistance to good.

Do we set out on the road of trust in God and never leave it even if we encounter obstacles?

If this road seems uncertain, dark, even crazy in human opinion, do we open ourselves to God's call, wanting to look at everything through His eyes and to stay serene in every situation; do we cherish in our hearts the peace and joy from being with God and bringing Him into the lives of others?

God can perform great things in our lives. Our job is to trust Him implicitly: "All for His glory and for our salvation!"


This prayer, left to us by St. Joan, invites us through Mary to entrust ourselves completely to God, to adapt to His plan, and please Him in all things:
"O Mary, Virgin and Mother of Jesus,
Grant that I think, say, and do all that
is most pleasing to God and to you."